2017 Food Vendor Guidelines and Online Application
Food Vendor Guidelines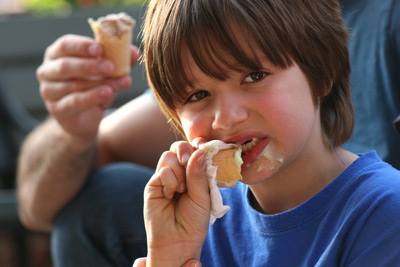 Times
| | | |
| --- | --- | --- |
| 3 p.m. | | • Set-up begins |
| 3:30 p.m. | | • Health department inspections begin |
| 9 p.m. | | • Tear-down begins |
| 10 p.m. | | • Streets / sidewalks must be cleared |
Locations
Wintery (COLD) Events For the months of January, April, May, November, and December, food trucks / trailers only will be located on Main Street in front of the Goshen Theater (216 South Main). (Limit of 3 food trucks / trailers)
Summer Events During the months of June, July, and August, a limited number of slots are available for food Vendors on the south side of the Courthouse.
Info
Questions? Contact Adrienne Nesbitt, Event Coordinator at adrienne @ eyedart.com
Fees
$50 per event day (Not-for-profit) $200 per event day (For-profit). DGI hosts events regardless of weather – no refunds will be given.
Requirements
Completed Food Vendor Application
Certificate of Liability Insurance naming Downtown Goshen Inc. as the Insured
Signed Hold Harmless Agreement
Payment in full (prior to event)
Approval from E.C. Health Department (for profit Vendors)
Elkhart County Health Department Requirements
For-profit Vendors MUST contact the Health Department at least 30 days in advance to give notice of intent to operate and to schedule an inspection time. Not-for-profit Vendors MUST contact the Health Department at least 15 days before the event. Vendors can view requirement for temporary food guidelines at the Elkhart County Health Department web site. Facilities must be able to pass inspection in order to receive a temporary food service license.
Location / Equipment
DGI provides Vendors with a designated 10' x 10' space. Vendors must provide and set up their own equipment (tent, tables, chairs, etc). Food Vendors using grills must provide a means for smoke abatement and an appropriate fire extinguisher.
Electrical Access
DGI does not provide on-site electrical access. Vendors must provide their own generators. Generators must be safe, and in good working order. Loud generators are not permitted. If your generator is too loud, we will ask that you bring a different generator for the next event.
Non-Compete Policy
DGI will not approve applications for food Vendors who compete directly with downtown restaurants. DGI gives preference to Vendors who sell healthy food.
Tents
Vendors must secure all tents with weights – stakes are strictly prohibited.
Garbage In – Garbage Out
All materials brought with the vendor and all recycling/trash collected during the night must be removed by 10pm. Vendors may not leave trash bags at their vendor location, nor pour any waste materials in the lawn or street drain. Trash or recycling left at the vendor's site will be removed at vendor's expense. Wastewater, such as water used for washing dishes or from washing hands, must be disposed of in an approved sewer or at a wastewater dumping station. Wastewater may not be dumped on the ground or poured down a storm water drain.
Music
Vendors must seek prior approval from the Event Coordinator if they want to play music at their location.
Certification
Food Vendors must have all proper documentation/permits necessary to sell food to the public including a Certificate of Liability Insurance naming Downtown Goshen Inc. as the Insured. You will be asked to upload a pdf or image of the completed certificate on the application form.
Application
All food Vendors must submit an application for approval. Allow 30 days for processing. The Event Coordinator will notify Vendor of approval/denial status via email. If approved, DGI must receive Vendor's payment in full before the event.
Removal
DGI has the right to revoke vending privileges and/or remove a Vendor from the site without refund if the Vendor does not follow the guidelines.
After reviewing the Food Vendor guidelines, please fill out the application below, and select the months in which you choose to participate.
---